posted December 7, 2011, 3:40 pm by henshaw | Filed Under Editorial, Interviews, Live Show Reviews |
6 Comments
Tags: Ghostland Observatory
When we heard Ghostland Observatory was playing Austin City Limits live, we realized how very little coverage we've given to one of indie music's largest success stories. Yep, it was time to get inside and find out why this duo has one of the most loyal fan bases in music.

Photos, Video and Interview provided by M.E. correspondent Jason Henshaw
edited by Brian Rutherford
You guys started in '03 in ATX via an ad in the Austin Chronicle. Did you guys know that this would work out?
Aaron: No we just went, we didn't really have… I don't really know, we really didnt know where we were going did we?
Thomas: No, we just both wanted to make music that was different, so we just got together and started doing that. That was the only rule
Aaron: Yeah, I think thats still the rules.
For the fans that don't know, how did you guys choose the band name?
Aaron: Literally, it just came into our head, its was seriously like we were doing a play called Ghost Sonata… Well we were working on music for a friend that was doing the play Ghost Sonata by August Strindberg and with the help of Telescope pictures, it came out. And that is the only way I can explain it. It wasn't like anything I thought about.
…It just kind of clicked?
Aaron: It really did.
Did you guys have any alternates that you were working with?
Thomas and Aaron: no
What is your favorite song to play live?
Thomas: I like "Midnight Voyage" Aaron: Im digging "Midnight Voyage" cause its always part of the set where you're really starting to get out there. Like mid-set … Its vibey, its got a good vibe
Now that you guys are touring all over the place, do you have a particular part of the world that you were like "what the hell, where did all these fans come from"?
Aaron: You know honestly, I can tell you we are watching it grow and its like Thomas and I said from the beginning… its been about us trying to do something creative together. We really found that communication together so thats been what has really been good. Thomas: I can say 'what the hell' about where the people learn to drive in Brazil. (laughter) Thats just flat out scary what they do there.
… did you almost get run off a cliff?
No but I had to stop looking at the road of the first trip…
WORD ASSOCIATION:
Occupy:
Thomas "territory"
Aaron "space"
Bacon:
Aaron "grease"
Thomas "eggs"
Earth:
Aaron "wind"
Thomas "Martians"
Texas:
Thomas: "LONE STAR STATE BABY!!!"
Beer:
Thomas "good"
Aaron "cold"
Your last album was a little over a year ago, is there a new one in the works? Can you give us a little insight into that?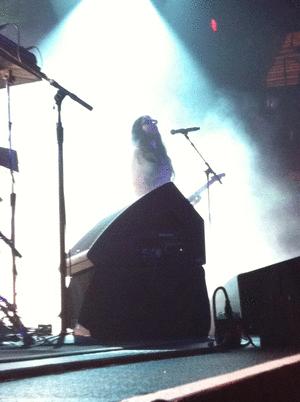 Thomas: I think we are going to get to work after the new year. Aaron: Yeah, were gonna start jammin, trying to find it.
You guys thinking about any new techniques or anything new you are gonna do on the next album?
Thomas: New techniques, thats the name of the new album!!!! Aaron: Yeah I like that, i really like that. (laughing) you might have just hit the bell, thats a really good name.
What are your thoughts about the death of the CD?
Thomas: To me I really don't care anymore, all the other stuff is cool, but when they come to the live show they get more of the sound. Aaron: Yeah, who knows with all the other stuff its all legalities you know mortality, live or die you know. But the live show will always go on.
Yea, your shows are so energetic. So upbeat, its like an energy around you, do you think that is why your fan base is so strong and loyal?

Thomas: Yeah, they are part of the show you know…When you look at the audience they are actually involved with the energy of the show. Its like fuel to the fire. Aaron: Its like a circulation man, sending out positive energy and they send it back, its like a constant ball of energy.
So in an old interview, you guys said the craziest venue you played was in a mormon town in Idaho. Has there been any other venue to top that?
Thomas: For weirdness? I have to say no. Aaron: Yeah that was pretty odd. Thomas: They were all serious before the show and took us aside and said heres the deal. "No cursing, no drinking on the stage, no this, no that. Aaron: But then that seemed like all that was out the window as soon as the music started. There still was no alcohol but all the rest was crazy.
Finally, I believe "Sad Sad City" was featured on the remake of 90210? What were your feelings on your music being used in Hollywood?
Aaron: i think its the same thing we feel about music, its whatever, thats all bonuses, thats stuff that spins off the creativeness. As long as we create good music its bound to happen.
As for the live show, as you can see by the accompanying media provided, the live show was delivered as advertised.
Comments