posted October 30, 2009, 12:02 am by Brian Rutherford | Filed Under Live Show Reviews |
1 Comment
Tags: Pearl Street Festival, The Toadies, Granbury, Studio216, Tool, Surfer Rosa, TX, Evans Blue, For The Mathematics
Written by Brian Rutherford and Jason Henshaw
Saturday, October 24th was a gorgeous day for The Dallas/Fort Worth Metroplex. Granbury, TX, just outside the vicinity of crazed Halloween shoppers and blue skies gazers lurked a first annual charity event. Just about 35 miles Southwest of Fort Worth, TX, under those very same blue skies and comfortable temperatures, a quiet historic downtown area was infused by music and spirit.  

Local senior citizens watched on patiently, benefitting from 25 original song writing artists who invaded five venues over a nine hour period. Some residents watched quietly from a bench and without spite as their community embraced the energy and migration of always on-the-move event volunteers. All the niceities of Granbury, TX (population 8,029) aside, PSF seemingly came off without a cloud. 

Studio 216, the local recording establishment, did a tremendous job of organizing. With a plethora of different sounds and characters hailing mostly from Granbury and D/FW, four of the five participating establishments were centrally located near or inside Granbury Square Plaza. The main stage of talent was skewed to Hewlett Park which sits on Lake Granbury.  To say the weather co-operated is a primordial understatement. With the exception of an occasional gust of wind, festival goers, planners and artists alike couldn't have asked for a more awe inspiring day.
Just after 1 p.m., Criminal Shift would be the first artist to strum for the early crowds of the Ampitheater style Granbury Plaza. The Dallas based Punk Trio used their suprisingly (for their age) confident stage demeanor, involving their crowd as traffic began to pick up Pearl Street to their left.  Shortly after Criminal Shift, the main event stage got underway, where Here's To Goodbye impressed several at the Hewlett Park grounds. As the only artist pulling double duty, they had a blitzing sense of metalcore later on playing for the sweaty crowd at Studio 216.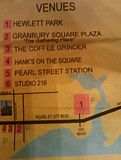 Just after 3 p.m., the Granbury Plaza enjoyed one of the most promising artist perfomances, Words In Windows. A post-modern rock five piece who displayed a strong sense of rhythmic writing and professionalism on stage. Somehow managing to winch together all instrumentation tactfully, as their melodic core sound is complimented by the perfectly placed ivories and a bit of brass.
Another three man band much talked about prior to the festival was Automorrow. Featuring a green-haired lead vocalist, a subtle to sweating rock, these guys kept the Hewlett Park crowd loose. One of the stage highlights of Hewlett Park was Peru. Traditional Rock with just a bit of a bite, invited Meander lead singer Daniel on stage for a largely welcomed rendition of The Pixies' "Where Is My Mind?"  Fort Worth's, Meander, may have the most potential. Melodies and convicted guitar work that should remind most of For The Mathematics or Armsbendback. As you can imagine, several other covers were heard. Such as Night Gallery, who treated Studio 216 listeners to a Texas favorite, The Toadies "Tyler". Night Gallery is a five man modern rock band with appeal to fans of Evans Blue and Sevendust.  By the time Solcide and Addnerim had hit the stage the park was dark and echoeing razor sharp metal. Solcide, who could bring a Tool comparisson from Maynard James Keenan (Tool lead vocalist) himself, also treated the crowd to a taste of contemporary imagery.  
Other venues featured an acoustic only crowd like The Coffee Grinder. Nearly five doors down to the old country architecture of Hank's On The Square, smiling faces enjoyed their Pop, Rock, food and drinks. An event created to benefit The Hood County Senior Center had many other benefits. But in the end, it was D/FW's indie music scene that had its day in the sun.
Comments