posted February 16, 2015, 3:35 pm by Carlita | Filed Under Music News, Press Release Roundup |
Leave a Comment
Music journalists get hit with a steady helping of press releases every day. For the music fan without that kind of sensory overload, a lot of music news can pass by without being seen. Every Monday, we will weed through and compile a list of some of the most intriguing press releases to come across our virtual desk.
Chaos Chaos
Chaos Chaos premiered their compelling new music video for Chaos Chaos' "Love" at Under The Radar today. The track is from Chaos Chaos' EP Committed To The Crime which is available now via iTunes. Chaos Chaos told Under The Radar, "After we read the NY Times article 'The 36 Questions That Lead to Love' we were inspired to test the theory that it's possible to fall in love with a stranger," says the band of the video's inspiration. "We thought it'd be interesting to just wander the streets of NY being filmed staring into the eyes of random strangers…We made the video into a social experiment." Committed to The Crime turned heads after its release late last year with Noisey hailing it as, "another example of their precocious talent and the sisters ability to craft hooks that are both instantaneous and timeless."
Chaos Chaos will be playing multiple shows at SXSW in support of the EP. More info below.
Chaos Chaos SXSW Shows
03-18 – L Rock Day Party
03-18 – Ulgyfest at Cherrywood Coffeehouse
03-20 – Maggie Mae's Gibson Room
V. Nova
Brooklyn rapper V. Nova presents the Philly Spielberg-directed music video for "How it Is", the Crack Factory-produced new single featuring David Godfrey from his new mixtape Hidden in Plain Sight Volume 3: The New Commission (HIPS3). "How It Is" follows the release of the video for "I Still Love Her" (watch), the video for "Smoke Break" (watch), the video for "The New Commission" (watch) as well as "Abstract Art", his video featuring Smif-N-Wessun (watch). One other HIPS3 single has also been released – "You Died" featuring Uncle Murda (listen). Part of rap duo BOE & Villa, Nova has worked with Erick Sermon (click to listen to "Vangundy"), MIDI Mafia, Denaun Porter of D-12, Wyclef Jean, Needlz, Mario Winans, Monifa, Rakim, Akinyele, Canibus (click to listen to "Seriously"), Fabolous, EPMD, Papoose, Funkmaster Flex, DJ Enuff and DJ Self. Nova's upcoming mixtape is the third volume of his HIPS series (listen to Volume 1 and Volume 2). "This record is inspired by the late Marvin Gaye and is my rap version of 'What's Goin On'," says Nova. "The visual takes you through three different walks of life (from a Philly perspective), to all meet up at a boiling point. The conclusion is that even though times are hard, the righteous have a way of working things out." HIPS3 is out now.
Cafeine
In anticipation of the American release of his New Love record (out February 17 on Indica Records), Montrealer Xavier Cafeine and music blog Altsounds have announced the premiere of Cafeine's cover of the The Gun Club track "Sex Beat." The new and previously unreleased track is available for the first time exclusively on the U.S. release of New Love. Cafeine recently explained why he chose "Sex Beat":
"I always thought that the chord progression of this song was perfect, simple, and brutally honest. The lyrics are as nasty as they are beautiful. Some kids think punk music is about dogmatic chants, green mohawks, ear stretchers, and, believe it or not, BEARDS! I wanted to give back to the world what the world needs to hear – I thought The Gun Club was a great choice. Also, I have the pleasure to perform it live and make myself believe that it's mine for three minutes, which is like winning the lottery." Cafeine's New Love is an anthemic celebration of the will to survive, a loud and reverberating affirmation that we can find something magical within our misery. Back home, Cafeine has already permeated Quebec commercial radio with "Electric" and "New Love" singles blasting across the dial.
Seryn
One week ahead of its official release on 2/17, Spotify has the exclusive stream of Seryn's new album, Shadow Shows. The album is streaming in full at Seryn's Spotify artist page. Shadow Shows was recorded in Denton, TX at Redwood Studio with Engineer/Producer/Drummer McKenzie Smith (Sarah Jaffe, St. Vincent, Sondre Lerche, Regina Spektor, Midlake). The sound on Shadow Shows expands upon the folk-rock vibe showcased on Seryn's 2011 debut, This Is Where We Are, by introducing more of a progressive-rock feel and energy to the new album.
Blues Traveler
BLUES TRAVELER TO RELEASE NEW ALBUM FEATURING
THOMPSON SQUARE, PLAIN WHITE T'S, 3OH!3, HANSON & MORE!
BLOW UP THE MOON OUT APRIL 7th
YAHOO NOW STREAMING NEW SONG CASTAWAY
WITH DIRTY HEADS & ROME RAMIREZ (SUBLIME)
GRAMMY award-winning band Blues Traveler are thrilled to announce the release of their new album, Blow Up The Moon, out April 7th on Loud & Proud Records. A clever collaboration between various artists, Blow Up The Moon sees Blues Traveler keep an open-minded perspective on making music and enlists an eclectic mix of songwriters influenced by the band's remarkable 25+ year career that includes multi-platinum albums and a commanding live show that continues to draw thousands of fans.
"We wanted to experiment with co-writing since we usually try to do everything in-house, in this misguided homage to The Beatles," says singer John Popper. Blow Up The Moon allowed Blues Traveler to expand their musical palette, while holding the foundation of their distinct and explosive brand of rock. "We found quality writers to see what they could bring to us as a band, and also people who could see our strengths, something that's hard to see for yourself." Blow Up The Moon features collaborating artists Thompson Square, Plain White T's, 3OH!3, Hanson, Jewel, Secondhand Serenade, JC Chasez (*NSYNC), Bowling for Soup, New Hollow and Thomas Ian Nicholas.
Yahoo
 is now streaming new song "Castaway" featuring California ska-punk band Dirty Heads and singer Rome Ramirez from Sublime. Check it out here: 
http://yhoo.it/1AOvcWu
Embed Code: http://bit.ly/1CEebO1
"The thing took on a life of its own," adds guitarist Chan Kinchla. "We had so much fun reinvigorating our songwriting. We all tried to inspire something great within, especially since all of these artists are different from us and what we do."
Blow Up The Moon enabled all of these musicians to broaden the idea of genre and help it lose its meaning. "Music is never supposed to be monogamous," says Popper. This unbiased standpoint made the collaborations work so well, evident in opening track "Hurricane" with electronic duo 3OH!3, and "Matador" written and performed with Thompson Square. "We all want to push boundaries," Popper said. "Generally, Thompson Square stick to love songs, but here they are writing a philosophical statement about how the industry will embrace you and then turn on you."
Blow Up The Moonis a remarkable collection of songs and rich songwriting that proves there are a lot of different ways to write songs, with a lot of different people and still arrive at the same place. "This was definitely an organic process that worked. It's something to be proud of," says Kinchla.
Loud & Proud Records see Blues Traveler as a relevant artist and the collaborations as exciting partnerships proving the band's versatility. Loud & Proud plans to release the album on both CD and vinyl in North America via RED Distribution (a division of Sony Music Entertainment) and in the rest of the world through earMUSIC.
Stay tuned for tour dates and more news!
www.facebook.com/bluestraveler/
https://twitter.com/blues_traveler
www.youtube.com/user/OfficialBT
Loud & Proud Records
For more information, please contact Steven Trachtenbroit at Big Hassle Media
212.619.1360 steven@bighassle.com
######
About Loud & Proud Records
Loud & Proud Records is an independent record label founded in 2007 by Tom Lipsky whose mission is to provide a true and transparent partnership between artists and their record label.  Loud & Proud's current roster includes five-time Emmy® Award winning actor and musician Jonathan Jackson and his band Enation, multi-platinum alternative band Flyleaf, rock supergroup The Winery Dogs, renowned jam band The String Cheese Incident, multi-platinum country artists BlackHawk, Seattle's alternative Walking Papers, critically-acclaimed singer/songwriter Willie Nile and powerhouse rockers KIX.  Labels under Lipsky's direction in the past, including CMC International, Sanctuary Records Group and a joint-venture with Roadrunner Records, were responsible for releases by such renowned artists as Rush, Lynyrd Skynyrd, KISS, Robert Plant, Rob Zombie, Morrissey, Lenny Kravitz, Iron Maiden, The Allman Brothers Band and more.  Loud & Proud Records is distributed in the U.S. and Canada by RED, a division of Sony Music Entertainment, and in the rest of the world by earMUSIC. Loud & Proud Records is a registered trademark of Lipsky Music, LLC.
Ok Go
OK GO WILL PERFORM ON "CONAN" ON TUESDAY, MARCH 17
NORTH AMERICAN TOUR KICKS OFF ON MARCH 20
GRAMMY®-WINNING BAND SUPPORTS INTERNATIONAL RELEASE OF NEW ALBUM, HUNGRY GHOSTS, WITH SHOWS
IN RUSSIA, EUROPE AND JAPAN
"YOU'RE A FUCKING NERD AND NO ONE LIKES YOU,"
A NEW OK GO SONG, IS HEARD IN HOT TUB TIME MACHINE 2,
OPENING FEBRUARY 20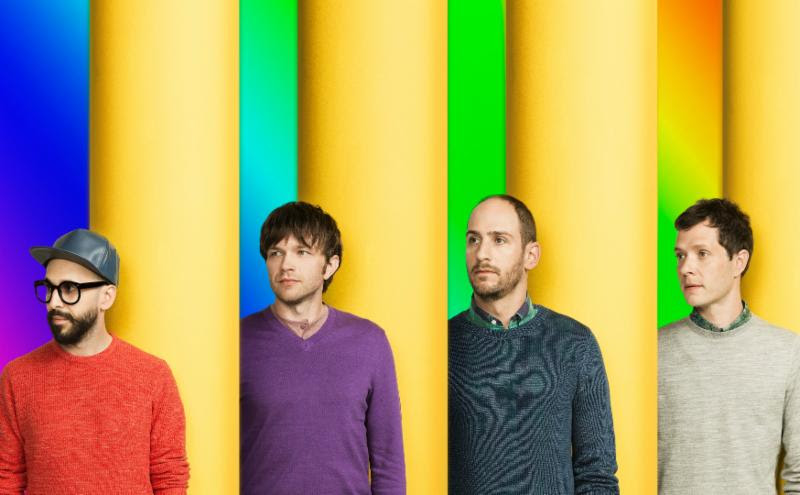 LOS ANGELES, CA – February 18, 2015 – OK Go will pay a return visit to "Conan" on St. Patrick's Day – Tuesday, March 17 – just days before the launch of the GRAMMY®-winning band's extensive North American theatre tour in support of its new album, Hungry Ghosts (Paracadute/BMG). The spring run will kick off with a pair of Northern California shows: March 20 at Catalyst in Santa Cruz and March 21 at The Warfield in San Francisco. The band, which is known for its highly interactive live shows, will play Chicago's Metro on April 3 and Terminal 5 in New York City on April 11. The outing will wrap up at The Wiltern in Los Angeles on May 2. See below for itinerary; tickets can be purchased HERE.
OK Go has been abroad in recent weeks, celebrating the international release of Hungry Ghosts. The festivities began with the band's first-ever shows in Russia and included a trek across Europe and a sold-out show at KOKO in London. OK Go will play a trio of shows in Japan this week. Check out the band performing its latest single, "I Won't Let You Down," on the Russian television show "Вечерний Ургант" HERE.
Hailed as "mesmerizing" by Entertainment Weekly, the official video for "I Won't Let You Down," premiered on NBC's "TODAY." By the following day, the single and Hungry Ghosts had jumped to No. 1 on iTunes Alternative Singles and Alternative Albums charts in Japan, where the video was shot. Single and album sales jumped 600% in the States. The clip – directed by OK Go's Damian Kulash and Kazuaki Seki, with creative direction by Morihiro Harano (of Mori, Inc.) – racked up 10 million views in its first week of release and was added by VH1, Fuse, MTV Hits and AXS TV. It can be viewed HERE.
"The One Moment," another track from Hungry Ghosts, provided the soundtrack for HBO's 2014 Yearender video, which can be seen HERE. OK Go has written and recorded a brand new song, entitled "You're a Fucking Nerd and No One Likes You," for Hot Tub Time Machine 2. The track can be streamed HERE. "I am ninety-nine percent sure that OK Go just released the nerd anthem of 2015," said Nerdist.com, which premiered the song. "'You're a F-cking Nerd And No One Likes You' is a triumphant rock romper about being a loner who doesn't necessarily have all the same interests as everyone else." Hot Tub Time Machine 2 opens February 20 and features Rob Corddry, Craig Robinson, Clark Duke, and Adam Scott.
With a career that includes award-winning videos, New York Times op-eds, a major label split and the establishment of a DIY trans-media mini-empire (Paracadute), collaborations with pioneering dance companies and tech giants, animators and Muppets and an experiment that aims to encodeHungry Ghosts on actual strands of DNA, OK Go continue to fearlessly dream and build new worlds in a time when creative boundaries have all but dissolved. The band has been honored with a GRAMMY, an MTV Video Music Award, a CLIO, two WEBBY Awards (including one for their collaboration with The Muppets and Sesame Street), a spot in a Guggenheim installation and a total of seven Lions from the 2012 Cannes Lions International Festival of Creativity – the advertising world's most prestigious competition.
All pertinent links:
Purchase Hungry Ghosts HERE
Purchase Spring 2015 tour tickets HERE
View OK Go performing "I Won't Let You Down" on "Вечерний Ургант" HERE
View "I Won't Let You Down" video and explore interactive website HERE
View HBO 2014 Yearender Video with "The One Moment" HERE
Stream "You're a Fucking Nerd and No One Likes You" HERE
OK Go – Spring 2015 North American Tour Dates
3/20 – Santa Cruz, CA @ Catalyst
3/21 – San Francisco, CA @ The Warfield
3/23 – Portland, OR @ McMenamin's Crystal Ballroom
3/24 – Seattle, WA @ Neptune Theatre
3/25 – Vancouver, BC @ Commodore Ballroom
3/27 – Calgary, AB @ MacEwan Ballroom
3/28 – Edmonton, AB @ Union Hall
3/29 – Saskatoon, SK @ Louis' Pub
3/31 – Winnipeg, MB @ Garrick Center
4/2 – Minneapolis, MN @ First Avenue
4/3 – Chicago, IL @ Metro
4/4 – St. Louis, MO @ The Pageant
4/6 – Columbus, OH @ Newport Music Hall
4/7 – Toronto, ON @ Phoenix Concert Theatre
4/9 – Boston, MA @ House of Blues
4/10 – Ithaca, NY @ The State Theatre
4/11 – New York, NY @ Terminal 5
4/12 – Baltimore, MD @ Ram's Head Inn
4/14 – Atlanta, GA @ Buckhead Theatre
4/15 – Orlando, FL @ Beacham Theatre
4/17 – Houston, TX @ Warehouse Live
4/18 – Dallas, TX @ Granada Theater
4/20 – San Antonio, TX @ Aztec Theatre
4/21 – Oklahoma City, OK @ Diamond Ballroom
4/22 – Kansas City, MO @ Middle of the Map Fest
4/24 – Denver, CO @ Ogden Theatre
4/25 – Salt Lake City, UT @ The Complex
4/26 – Boise, ID @ Knitting Factory
4/28 – Las Vegas, NV @ Brooklyn Bowl
4/30 – Tucson, AZ @ Rialto Theatre
5/1 – San Diego, CA @ House of Blues
5/2 – Los Angeles, CA @ The Wiltern
Comments